Get to the Hochob archaeological zone it is a sight for sore eyes. Here we can see the Mayan façade of the most impressive chenes style, are you going to miss it?
La Hochob archaeological zone It is one of those places that you do not have to pass through at all, either you go or you do not go, but you rarely find it by chance. This happens with several archaeological sites in Campeche, a route that I am sure will fascinate you if you get to the Hopelchén area.
5 archaeological sites in Campeche that I wouldn't miss
ARCHITECTURAL STYLES OF MAYAN CIVILIZATION
To get a bit in the picture, let's start with the basics. The ancient Maya developed different architectural styles throughout their civilization. Each style has its architectural characteristics, which groups and defines them by areas and by style. We group the most notorious and we give you an example of an archaeological zone of each style.
PETÉN STYLE: Tikal
MOTAGUA STYLE: Copán
USUMACINTA STYLE: Yaxchilán
Palenque: Palenque
RIVER BEC: Becán
CHENES: Hochob
PUUC: Uxmal
MAYA-TOLTEC STYLE / NORTHEAST PLAINS: Chichén Itzá
ORIENTAL COAST STYLE: Tulum
If you want to delve into the subject you can read more in the UNAM Magazine
"We can affirm that there is a double purpose in most of the Mayan constructions: they served as space for specific human activities and also showed, in the form, arrangement and symbolic content of their sculpted facades, an important cosmological message." George F. Andrews. Architect and Emeritus Professor of Architecture at the University of Oregon. Source Archeology Magazine of the year 1995 Mayan architecture
CHENES STYLE OF MAYAN ARCHITECTURE
The area that concerns us in this article of the Hochob archaeological zone It's Chenes style. This style has similar characteristics to the Rio Bec and Puuc styles, three styles that developed in the same period and in more or less close areas. If we can highlight something about the Chenes, it is their decorated facades.
Other nearby archaeological sites in Chen style are Dzibilnocac, El Tabasqueño and Santa Rosa Xtampak. A pity that Santa Rosa de Xtampak was closed those days, as it is one of the archaeological sites that I most want to visit. So it will continue to be a beautiful excuse to escape to this area of ​​the Chenes again.
What led me up Hochob It was the desire to delight myself in front of this Mayan work of art that we can still enjoy today. Hochob it preserves one of the most beautiful facades that we can see from the ancient Mayan.
I must confess that being in front of this facade brought out my best smiles, and it was not easy to get to Hochob.
HOCHOB ARCHAEOLOGICAL AREA
I was in Hopelchén for work reasons, and taking advantage of the proximity and excitement of the reopening of the archaeological sites after 6 months due to the covid-19 pandemic, I approached the place.
The road from Hopelchén to Hochob was very ugly, especially due to the storm Cristóbal in June 2020 that hit very hard in this area. A lot of hole, a lot of fallen branch, an internet signal that did not reach and the indication signs eaten by nature made the way longer than expected. Also, I felt half sick to my stomach, one of those days when you should rest, but you can feel the emotion. The road was heavy, but I stopped there and I laughed with happiness.
Normally she hopes to visit Hochob in privacy, she does not receive many visitors because he is far away. In these days of reopening of activities things were calmer, so I was alone in the enclosure. For me these moments are a luxury: being able to visit an ancient Mayan city in solitude is priceless, walking the vestige in your silence only accompanied by the sound of birds and the wind is maximum.
The enclosure is small, little more than a square where you can enjoy the main buildings. There is a shaded path that takes you to different chultunes or water collectors. I loved the climb up the stairs where you open the panorama until you fully see the main facade. It is exciting.
The buildings we see were built between 600 to 900 AD. The settlement at Hochob dates from 300 AD to beyond 1000 AD, with the consequent fall in the best known Mayan collapse of 900 AD.
In the Hochob archaeological zone the Mayans used the natural elevations of the place to build the city. The main square is on a natural elevation of 30 meters, leveled by the ancients.
HOCHOB STRUCTURES
Hochob's main square faces the cardinal points from east to west, about 32 degrees east of north (for photographers). The facade is to the north, it is B on the map of the place, which is known as structure II. And that's how small the place is, you know what they say: the good jam is in the small pot 😉
Follow the paths that you see on the sides of the main square and you can walk a little around the place. On these paths you will see several holes in the ground: they are chultunes (pre-Hispanic cisterns), wells made by the ancient Mayan to collect water. The paths provide good shade and are very short. I recommend you bring insect repellent, especially in the months of June to August.
EXPLORING HOCHOB IN TIME
The first explorer that Hochob reported was Teobert Maler in 1887, it is the photo that we see below these lines. Hochob means "ears of corn", it is given this name once Teobert notifies it. Just like other places reported by explorers, when I see your photos I get excited about going.
The truth is that the beautiful façade is similar to the one Teobert showed us in 1887. The first excavations and restorations in Hochob were carried out by Ramón Carrasco from INAH starting in 1982.
When Teobert Maler discovered it and registered the name of the archaeological zone, it was called Hochob, corncobs.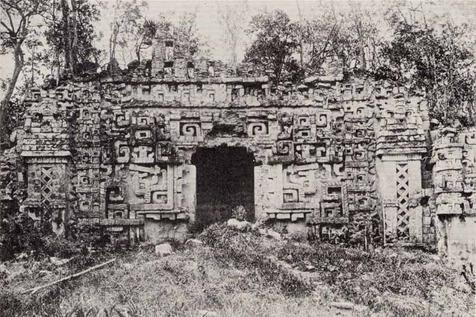 HOCHOB ARCHAEOLOGICAL ZONE PRICE
The entrance is 45 pesos per person. On Sundays, the INAH entrance is free for Mexicans and permanent residents. Access to the archaeological sites is free every day for children under 13 years of age, students, teachers and senior citizens with valid credentials.
HOCHOB SERVICES AND SCHEDULES
Hochob is open daily from 8 to 5 in the afternoon. It has toilets at the entrance and parking. Bring water, there is no sale of drinks and food on site.
HOW TO GO TO HOCHOB
At Hochob you arrive expressly, you are not on the way to any popular tourist place.
HOW TO GO TO HOCHOB FROM CAMPECHE: from the city of Campeche you drive to Hopelchén and continue to the town of Dzibalchén on the 261. Upon reaching the Dzibalchén junction, continue towards Chencoh. Here take the 4 km path to the archaeological site of Hochob. DURATION OF THE JOURNEY: 2 and a half hours approximately, or more as the road is in poor condition from Hopelchén to Dzibalchén.
HOW TO GO TO HOCHOB FROM HOPELCHÉN: from Hopelchén you must go south towards Dzibalchén on the 261, and take the detour at the Dzibalchén junction towards Chencoh. Here take the 4 km path to the archaeological site of Hochob. It is indicated. JOURNEY DURATION: 1 hour or more, as the road is in poor condition. HOTELS IN HOPELCHÉN: there is cheap accommodation in Hopelchén, I recommend the Hotel Los Arcos.
Hochob, archaeological site
LOCATION:
Hochob is located 2 and a half hours from the city of Campeche.
---
SCHEDULE AND SERVICES:
open from 8 a.m. to 17 p.m. daily. Last entry at 16:30. They do not sell drinks or food inside. There are services at the entrance.
---
PRICE ENTRY:
45 pesos.
---
HOW TO GET IN PUBLIC TRANSPORTATION?
It is difficult to get there by public transport, and you should walk 4 km from the crossing to the entrance of Hochob.
---
WHAT TO BRING?
Light and light clothing, hat, insect repellent, sunscreen, closed shoes better and some water will do you good.
---
Good way,
the shortest way
participate in affiliate program this means that we get a small commission if you buy through these links accessing discounts; in no case does it suppose an additional cost for you and in this way you help us to maintain the blog.
---
If you prefer, you tell us your idea of ​​the trip and together we organize it.
---
Sandra Salvadó
Training photographer, traveler by vocation and certified tourism guide by the Government of Mexico. We promote natural wonders and contemporary Mayan culture. Great fan of pre-Hispanic history. Author of the blog and co-founder of The Shortest Path Travel, agency that guides you through alternative paths in Mayan lands. Social and sustainable tourism in the Yucatan Peninsula and Chiapas.
I am at your disposal for whatever you need. Let's talk.