Laguna Kaan L'uum is one of those places close to the tourist Riviera Maya that has been kept almost secret for years. Its exquisite and leisurely beauty makes it an open local secret that you end up sharing.
There are places in the world that have a photogenic gift, Kaan L'uum lagoon is one of them. The colors of the place are a perfect palette of turquoise, blues and greens, where the camera works almost alone in front of the beauty that captures our attention without trying.
Another clear example of a place with a lot of photographic hook of the Peninsula is Las Coloradas, where hundreds of photos with those pink colors with the blue sky impact us without remedy. It is not the most spectacular place in the world, but somehow we want to go there and take our picture.
The cenote in Kaan L'uum
As if that were not enough, it has a photo icing that makes it an exquisite place, like the Blue Cenote of the Bacalar lagoon. In Kaan L'uum lagoon there is a cenote in the middle of the lagoon, a deep blue hole looks amazing from the heights. I assure you that you see a photo from the air, and you want to go to Kaan L'uum lagoon.
What 9 Cenotes near Tulum we recommend you visit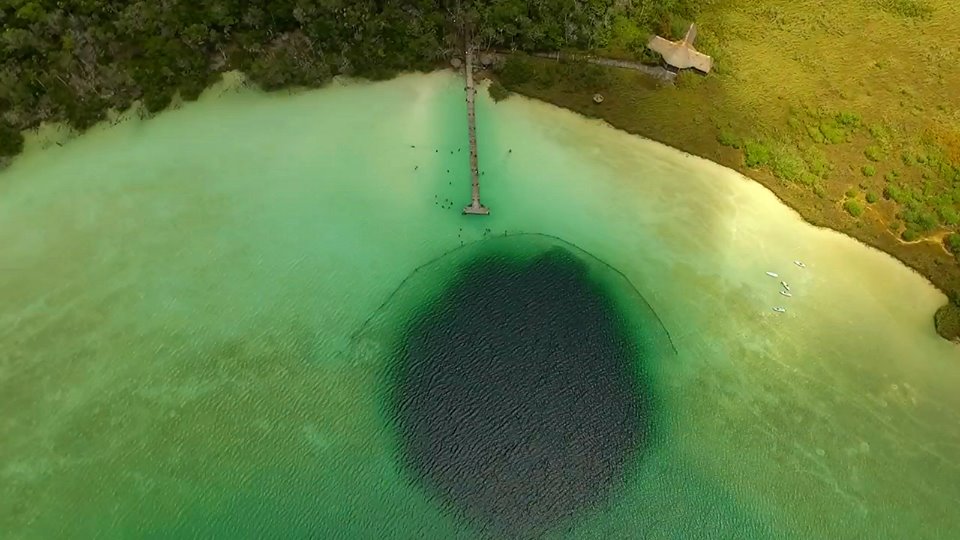 Meet the most popular Tulum lagoon
Laguna Kaan Luum is one of the places you do not hesitate to recommend to friends, and spread the word of mouth gossip. Between the striking images that run through the network and the recommendations, it is impossible to remain silent.
Its easy location and close to the tourist Riviera Maya it makes it an even more appetizing dish. The good thing is that we go local and independent travelers, the organized groups do not arrive here. NOTE: Over the years it has become so popular that many more people arrive, right now it is difficult to be alone in the place.
How to go to Laguna Kaan L'uum
From nearby Tulum it is one of the visits that I recommend to go by bicycle, a usual practice in the area thanks to having several attractions such as the archaeological zone of Tulum, cenotes such as Cristal or Grand Cenote or the same beaches of Tulum a few kilometers away . You will find the Kaan L'uum lagoon 7 kilometers from the Tulum exit towards Felipe Carrillo Puerto.
Services in the Kaan L'uum lagoon
Laguna Kaan L'uum belongs to an ejido near the Sian Ka'an Biosphere Reserve, with whom he shares these delicious colors that catch us. There are services of rustic bathrooms and a large palapa where you can consume your food. The palapa is found on the left hand side once you reach the lagoon. It makes me a great place to spend the day with family or friends.
The wooden pier that takes you into the lagoon becomes the visitor's meeting place. Sundays are the busiest day, but if you arrive early you will have this little paradise for you.
As you will see the area around the cenote is cordoned off and they prohibit swimming above: it is not dangerous and does not engulf you into the cenote, but the administrators of the Kaan L'uum lagoon prefer to save themselves the responsibility of caring for the visitor who does not know swim well.
It is a pity that site administrators do not invest in maintenance and service improvements, is somewhat neglected. Some travelers have told me this detail.
A plus of Kaan Luum lagoon is the mud bath, a delicious natural spa that gives us nature. You know dear traveler, go and enjoy this little piece of heaven, this detour is worth it.
Laguna Kaan L'uum, nature
LOCATION:
Kaan L'uum lagoon is located 7 km south of Tulum towards Felipe Carrillo Puerto.
---
HOW TO GET IN PUBLIC TRANSPORTATION?
Collective transport departs from
Overall
to Felipe Carrillo Puerto you must tell them to stop you at the entrance. From here you walk a scant 1 kilometer. Taxis have a fixed rate and wait for you at the entrance to return.
---
HOURS, PRICE AND SERVICES:
they open from 9 to 5 in the afternoon. Price per person 50 pesos. The divers 150 weights. The services are somewhat neglected by the administration, they could take better care of it.
---
WHAT TO BRING?
There are no food or beverage services, you can bring your food. Comfortable and light clothing, and hat to cover your head. Protect yourself from the sun and insects. Try not to use contaminants for water like creams.
---
Good way,
Offers on flights international and national ..
Find the accommodation with the best offers from Booking.com.
Stay with Airbnb and get 25 € discount.
Contract activities, tours and excursions organized.
Rent a car with the indispensable and necessary best discounts.
Secure your transfers of arrival or departure to the airport.
Travel safely with IATI and take advantage of 5% off.
the shortest way
participate in affiliate program this means that we get a small commission if you buy through these links accessing discounts; in no case does it suppose an additional cost for you and in this way you help us to maintain the blog.
---
If you prefer, you tell us your idea of ​​the trip and together we organize it.
---
Sandra Salvadó
Training photographer, traveler by vocation and certified tourism guide by the Government of Mexico. We promote natural wonders and contemporary Mayan culture. Great fan of pre-Hispanic history. Author of the blog and co-founder of The Shortest Path Travel, agency that guides you through alternative paths in Mayan lands. Social and sustainable tourism in the Yucatan Peninsula and Chiapas.
I am at your disposal for whatever you need. Let's talk.