We show you the best luxury hotels in Cancun in the zona hotelera. We hope you enjoy your vacation, choosing your ideal hotel is basic.
Cancun hosts luxury hotels where you will enjoy the experience at another level. You have come to the right place to enjoy the Mexican Caribbean in Exclusive all-inclusive hotels.
To write this article we rely on our own knowledge, we have also relied on professionals from the tourism sector. We try to achieve an accurate criterion of which are the best hotels in Cancun. We have made the selection of the 9 most repeated hotels.
The Mexican Caribbean is divided into three sections: Cancun, Riviera Maya and Costa Maya. Cancun is where they began to develop tourism, building the zona hotelera about the 70 years.
The Caribbean coast known as Riviera Maya encompasses the towns of Puerto Morelos, Playa del Carmen and Tulum. In this article we focus only on Cancun.
THE 9 BEST HOTELS IN CANCUN
Cancun hosts a small nucleus of exclusive hotels, dreamy beaches, cultural activities and party. A destination of relaxation and warmth all year round where the Caribbean Sea welcomes you among its turquoise waters. Once in your life you must live this experience in Mexico.
Si reservations through the blog, it is not more expensive for you, you benefit from the offers, and it is a way of support my work upon receiving a small commission. Thank you sincerely to all who support the blog 🙂
What does the Zona hotelera from Cancun
1-RITZ CARLTON CANCUN
Ritz is one of the most luxurious hotel chains that offers its services around the world. Your excellent hotel in Cancun, undoubtedly follows the line of what it always offers: quality and luxury services. There are 365 rooms with sea views, of which 50 are suites.
2-SUN PALACE
Another one of the all-inclusive luxury hotels for adults only.
Relax, good services and restaurants, so you can enjoy your stay. It was completely reformed in the 2008. Prices from 500 to 1500 usd night.
3-NIZUC
It is located in a quieter area of ​​the zona hotelera, where there are no tourists walking, only the tranquility of the hotel. The most 300 rooms and 162 suites are spectacular, as are the hotel services. It was built in the 2012. I love this hotel.
4-SECRETS DE VINE CANCÚN
A chain of luxury hotels that know perfectly how to pamper their customers. Very careful and elegant in details and services, where they will make you feel privileged.
5-LIVE AQUA CANCUN ALL INCLUSIVE
The Mexican group Posadas opted for luxury tourism in Cancun with the beautiful Live Aqua in the 2005, remodeling it entirely in the 2018, with great detail. 371 rooms, suites included.
6-LE BLANC SPA RESORT- ALL INCLUSIVE-ADULTS ONLY
The 206 rooms of this beautiful hotel welcome a customer accustomed to exclusivity and luxury services. They have designed a wellness program, for relaxation and harmony in your stay.
7-HYATT ZIVA CANCUN - ALL INCLUSIVE
The Hyatt is a chain of luxury hotels worldwide, opened this second complex in Cancun at the 2015. Of the largest with 547 rooms, 160 dedicated only to adult tourism.
8-IBEROSTAR CANCUN STAR PRESTIGE
The Spanish chain Iberostar is accommodated in the elite of the zona hotelera in this 2018 with this hotel piece. They have spent more than 20 years in Mexico, and expanded their offer in Cancun with the 156 rooms of the Star Prestige.
9-ROYALTON SUITES CANCUN
Another world-famous chain that expands its offer in Cancun. Its 426 rooms add to this luxury offer in the Mexican Caribbean, expanding the range of complexes that already operated in the area.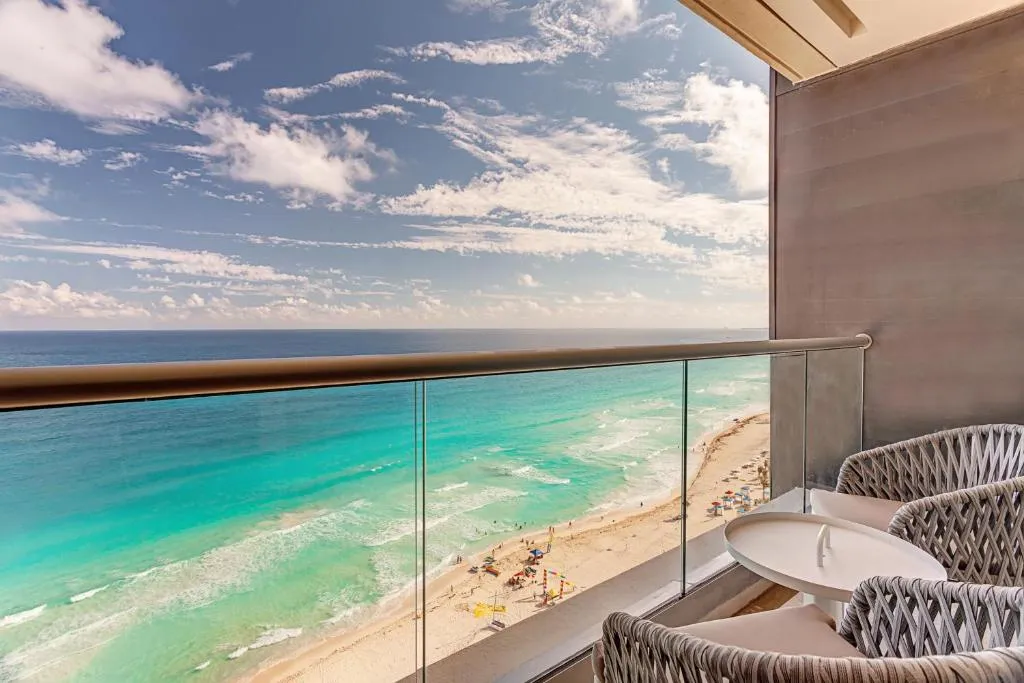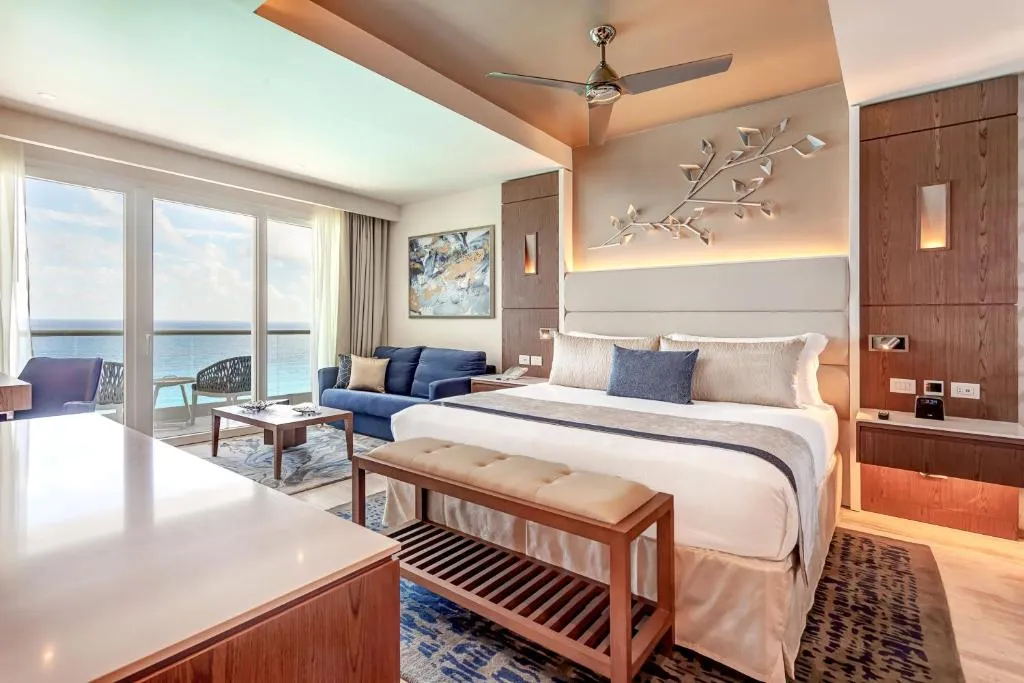 TRANSFER FROM THE CANCUN AIRPORT
The named hotels offer transfer to the airport. The airport is at 13 kilometers from the zona hotelera from Cancun, in about 15 you will be at your hotel. In case a transfer suits you, I also leave reservation options for your convenience.
THE MOST EXCLUSIVE EXCURSIONS FROM CANCUN
So that you can spend wonderful days in the Mexican Caribbean, we will link you to the most exclusive excursions you'll find in the Cancun area. Of course the sea and Chichen Itza are the main protagonists of the destination.
You can book from the blog, there are no cancellation problems until 24 / 48 hours before.
ARTICLES OF INTEREST TO TRAVEL TO RIVIERA MAYA
I hope you enjoy the destination, from this space we wish you an excellent vacation. If we can help you with anything else, you can find us here: sandra@elcaminomascorto.es
We link an article with everything you need to plan your trip to Riviera Maya. We talk about safety, weather, travel with children, tours, what you can not miss, the best beaches.
complete guide Riviera Maya trip
Good way,
Offers on flights international and national ..
Find the accommodation with the best offers from Booking.com.
Stay with airbnb and get 25 € discount.
Contract activities, tours and excursions organized.
Rent a car with the indispensable and necessary best discounts.
Secure your transfers of arrival or departure to the airport.
Travel safely with IATI and take advantage of 5% off.
the shortest way
participate in affiliate program this means that we get a small commission if you buy through these links accessing discounts; in no case does it suppose an additional cost for you and in this way you help us to maintain the blog.
---
If you prefer, you tell us your idea of ​​the trip and together we organize it.
---
Sandra Salvadó
Training photographer, traveler by vocation and certified tourism guide by the Government of Mexico. We promote natural wonders and contemporary Mayan culture. Great fan of pre-Hispanic history. Author of the blog and co-founder of The Shortest Path Travel, agency that guides you through alternative paths in Mayan lands. Social and sustainable tourism in the Yucatan Peninsula and Chiapas.
I am at your disposal for whatever you need. Let's talk.