Palenque has been developing services around its great jewel, the archaeological zone of Palenque. There are several Chiapas tours from Palenque that bring you closer to other beauties in the area, expanding the offer considerably.
The first time I visited the archaeological zone of Palenque It was in 1996, and I was totally captivated by that jungle and the Mayan vestiges. I didn't want to move from the area, I wanted to wake up there forever. Throughout the years we have been living in Mexico, there have been few times that I have had the opportunity to go to Palenque.
I have seen how the place has grown in services, both accommodation and tours in this area of ​​Chiapas. The area has always been beautiful, only now we have more comforts and facilities to visit it on a tour of Chiapas.
To make your trip easier, we write about where to stay in Palenque. The experience changes a lot according to the area, so we did it with great care so that our experience will serve you on your way. I recommend you spend a couple of days in this area, there is much to see, you will see it.
BEST SELLING CHIAPAS TOURS FROM PALENQUE
As I was saying, for some time the tourist services in the area have been developing, something that makes it easier for the traveler to move around and visit other excellent places in the surroundings. Even places a little further away like Calakmul, another pre-Hispanic gem that is at the level of Palenque and Tikal. By the way, to Tikal you can also go on Chiapas tours from Palenque.
I link you with the most popular excursions so that you can build your plan before arriving in Palenque. Evidently to these places you can arrive by free, the comfort of going with agency is a personal matter. In the blog you find the information to travel independently and freely. We leave you the link of the Civitatis agency with which we are affiliated and sells tours through the internet. If you want to book with them you can do it with the direct link from the blog, it is safe and simple. The good thing you can Cancel free until 48 hours before, and they pick you up at your hotel in Palenque and leave you on the way back.
Chiapas tours from Palenque offer interesting prices.
MOST POPULAR TOURIST PLACES TO VISIT FROM PALENQUE
CASCADA ROBERTO BARRIOS: The most likely thing is that you will hear Agua Azul in Chiapas, some great pools of turquoise water in the jungle. As Roberto Barrios has nothing to envy, in fact in Chiapas there are several waterfalls and pools of turquoise waters that cross their green mountains, the landscape is incredible. Roberto Barrios has an hour and a half by car.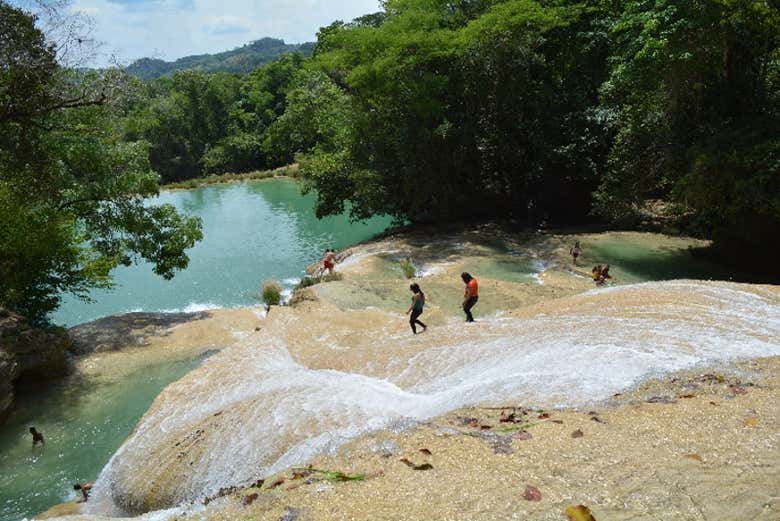 LACANDON JUNGLE: The Lacandon Mayans are one of the ethnic groups that have more closely conserved their traditions and customs. Living with them and being able to explore their natural habitat is an experience that is worth the trip. It is something special to do: you will sail in a kayuco (its original boat), you will visit a Mayan community and you will go hiking.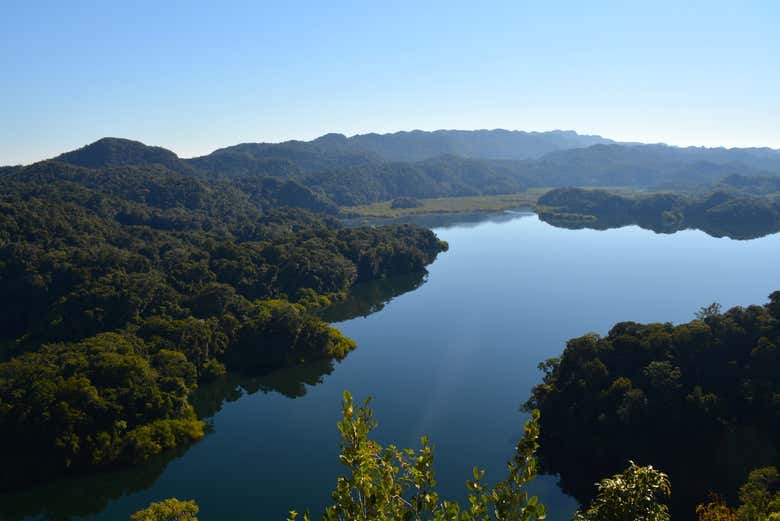 YAXCHILÁN AND BONAMPAK WITH SELVA LACANDONA: the Lacandon Maya inhabit different areas in the area. There is a tour that offers you two days from Palenque to live together and visit two of the most impressive Mayan cities in Mexico, for me a must. Yaxchilán and Bonampak are incredible, and roast a night in a Lacandón village and go hiking, a cherry on your travel experience.
Two days to live in a Lacandon town visiting Yaxchilán and Bonampak
CALAKMUL ARCHAEOLOGICAL AREA: years ago this tour was not offered, the impressive Calakmul It was not as well known and there were not so many tourist services. Luckily today you have the opportunity to visit Calakmul from Palenque, see the tour to see if it interests you.
TIKAL ARCHAEOLOGICAL AREA: As if it were not enough Calakmul, you also have the excellent opportunity to visit Tikal from Palenque. Maybe it was not among your plans because of ignorance, but here is this offer. The place chosen to stay is the Remate, a beautiful and quiet town in Guatemala on the shores of the lake, a delight. Tikal is the top of Mayan cities. Obviously you can do this path for free, we leave you also the link of How to cross to Guatemala by free from Palenque to Tikal.
RAFTING BY RÍO LACANJÁ: a bit of good adventure, rafting down one of the Chiapas rivers and two hours of hiking through the Lacandon jungle, with surprises in your way. Personally I like to live different emotions of travel, this is a great opportunity to enjoy nature. This tour is very complete, of the good things to do.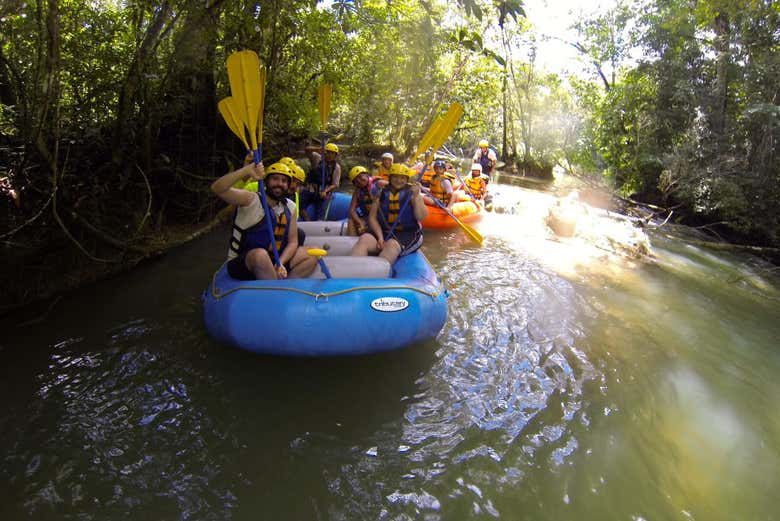 GRUTAS DE COCONÁ. OXOLOTAN AND MAGIC PEOPLE TAPIJULAPA: You also have the possibility to visit the state of Tabasco, in a tour of nature and culture that will surely surprise you. Impressive caves and two populations, Tapijulapa Magical Town of Mexico. exquisite tour where to enjoy something different from Palenque.
Culture and nature tour to Tabasco, let yourself be surprised for the good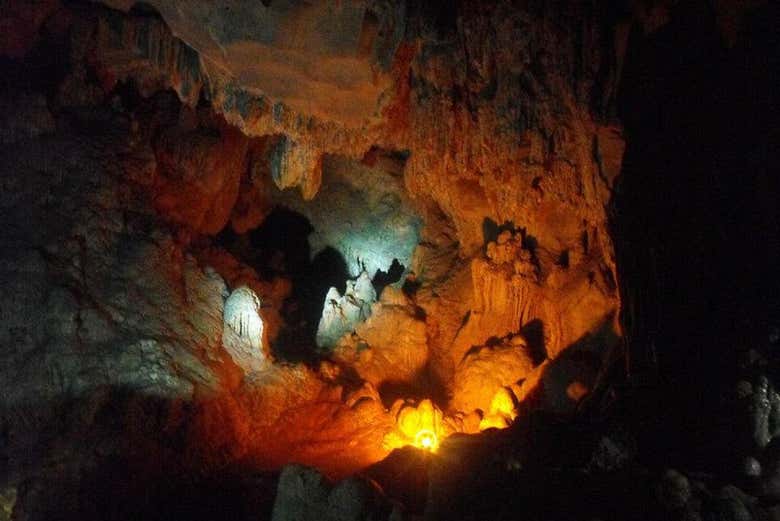 The offer is more than interesting from Palenque as you can see. The blog helps you travel freely by giving you the information to do it. If you want our help in a personalized way we offer travel advice. Contact me at sandra@elcaminomascorto.es. I would love to be able to help you on your trip through these lands with what you need to build your route, a pleasure to serve you and plan Chiapas tours from Palenque or any other destination.
Good way,
Offers on flights international and national ..
Find the accommodation with the best offers from Booking.com.
Stay with airbnb and get 25 € discount.
Contract activities, tours and excursions organized.
Rent a car with the indispensable and necessary best discounts.
Secure your transfers of arrival or departure to the airport.
Travel safely with IATI and take advantage of 5% off.
the shortest way
participate in affiliate program this means that we get a small commission if you buy through these links accessing discounts; in no case does it suppose an additional cost for you and in this way you help us to maintain the blog.
---
If you prefer, you tell us your idea of ​​the trip and together we organize it.
---
Sandra Salvadó
Training photographer, traveler by vocation and certified tourism guide by the Government of Mexico. We promote natural wonders and contemporary Mayan culture. Great fan of pre-Hispanic history. Author of the blog and co-founder of The Shortest Path Travel, agency that guides you through alternative paths in Mayan lands. Social and sustainable tourism in the Yucatan Peninsula and Chiapas.
I am at your disposal for whatever you need. Let's talk.